Skip the design busywork and create stunning documents from Markdown in seconds
Remarq's designer-built templates, easy style customization, and simple interface allow you to turn Markdown documents into stunning electronic, print-ready documents.
"I strongly recommend Remarq to other tech firms and consultants.

I've always felt embarrassed selling clients $X0,000 of services and then delivering them in a plain Word document. Remarq lets my company look appropriately professional without requiring me to waste time doing a poor imitation of print design. We're going to use it for proposals, letters of intent, deliverables, and other business documents."
The best tools are both simple and powerful.
Anywhere Access
Store your raw and converted documents online, update anytime, and enjoy robust security for your work. All you need is your source text file--using simple characters to style headlines, emphasized text, and quotes--and a browser.
Powerful Styles
Like a graphic designer in a box, Remarq styles your Markdown with gorgeous defaults. Easily tweak fonts, margins, and colors with simple controls. Configure title pages that make your documents pop.
Fast Workflow
Build a library of re-usable styles for different clients or document types. Drag in new Markdown source files to easily create stunning, formated documents in seconds.
Flexible Workflow
Edit in your preferred markdown editor or make quick changes online. Tweak styles any time and easily update existing documents.
Customize Stunning Designer-Quality Templates
Choose from 4 stunning, designer-crafted templates. Easily customize with your choice of fonts, colors, and branding.
Update old documents with new styles easily.
Create a library of styles for multiple clients or document types.
Create easy-to-remember style names.
Automatically generate tables of contents with no extra work.
Set different margins for page body, header, and footer.
Globally justify text, or not!
Easily set font size, color, and line spacing for the body, and headers.
Easily set link colors.
Easily configure visually-compelling section title pages.
What Remarq customers are saying
"In less than a month Remarq has become an indispensable part of my workflow. Clients comment on the presentation every time."
"You know great looking PDFs carry lots of perceived value, but creating them SUCKS!"
"Markdown → Professional, High-Value Proposals and Documents It's freaking gorgeous."
Look as valuable as you are to your clients...
even if you aren't a designer.
Sign up to use Remarq now. All plans come with a 30 day money back guarantee.
Agency
$199/month
Intro: $159/month
4 Professional Templates

?

70 Documents/month

?

20 Users
Customizable Fonts, Colors, & Pages
Custom cover page

?

Full page image & pdf imports

?

Premium Support
Ideal for agencies or consultants who produce a lot of documents.
Consultant
$89/month
Intro: $69/month
4 Professional Templates

?

25 Documents/month

?

5 Users
Customizable Fonts, Colors, & Pages
Custom cover page

?

Full page image & pdf imports

?

Premium Support
Ideal for consultants who require branded documents.
Freelancer
$39/month
Intro: $29/month
4 Professional Templates

?

10 Documents/month

?

1 User
Customizable Fonts, Colors, & Pages
Custom cover page

?

Full page image & pdf imports

?

Premium Support
Ideal for freelancers who produce a few documents per month.
Need a custom document solution? Please get in touch.
"At first I was pretty hesitant about paying for Remarq.

I have almost a decade of design experience and have zero problem using inDesign. Then I realized how much time I was wasting putting our agency's documents together myself (not to mention trying to satisfy my own ridiculous expectations that our clients couldn't care less about).

Now Remarq is a cost that I don't think twice about. It pays for itself in a single week."
How much could you save with Remarq?
Let's suppose that your designer charges $65 an hour to create your client documents. You need them to look great, right?
If each document takes an average of 3 hours to complete that means that your designs alone for a document are $195. Per document. Per month. So how about when you have 3 documents to deliver...?
Will all my documents look the same because I don't have infinite control over page layout?
No. First, check out these three documents, all created from the same template: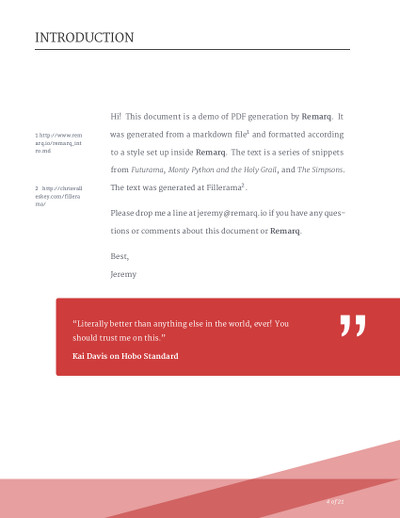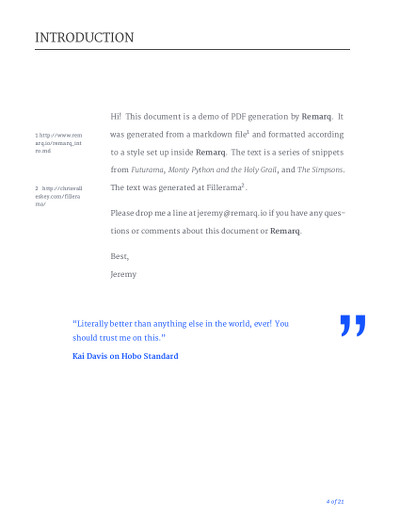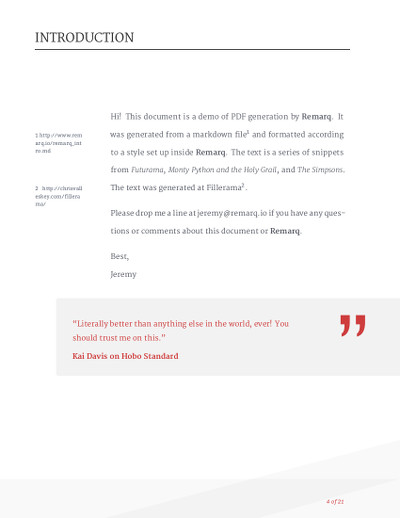 Second, consider this:
Branding is an intentional sameness that extends across all your interactions with prospects and customers. The Coca-Cola logo doesn't get tweaked whenever a graphic designer feels like it. Remarq helps you easily extend your branding to documents like reports and proposals.
What you need more than infinite control is guardrails: smart defaults based on design and typography best practices. Pixel-level control over your documents is a recipe for wasted time you could be using to help clients or build your business.
Clients don't care about my documents, they care about my results.
Perhaps, but there are dozens of unspoken signals you are sending your clients all the time. Your level of dress, whether you act like a peer, and the quality of your marketing materials all send subtle signals about how much value your clients can expect to get when working with you. Don't tarnish their impression of you with substandard documents.
My documents are really about the content, not the design.
I hear you. I used to think the same until I realized that design is an integral part of the content. The two are really inseparable. Would episodes of "Game of Thrones" be just as awesome split up into 5-minute segments on YouTube with an ad before each segment?
I already have a template I use for my documents.
That's great! If you're sure you aren't burning hours fiddling with page layout gremlins or template minutia, then keep delivering truckloads of business value to your clients. We salute you!
I don't need this, I already make gorgeous documents in InDesign any time I want.
Is this really the best use of your time? What if you created documents that your clients (not you, you eagle-eyed designer) found equally impressive in 5 minutes instead of 2 hours? What would you do with the leftover 115 minutes?
What the heck is Markdown? This already looks harder than putting together a document in a Word or Pages template!
How much time have you spent fighting Microsoft Word? How awesome do your Pages documents look?
Markdown uses special characters to *format* text passages. To use emphasis, you simply type it in. **Like this**.
Headings start with symbols like this # and images are simple links to images online.
5 minutes of learning gives you access to a universe of editors and word processors that are a pure joy to use, and an awesome range of conversion tools that produce stunning designer-quality PDFs (hint, hint), eBooks, HTML files, and many other useful output formats.
The Remarq interface for customizing your documents is very easy to use:
Remarq is just one of scores of ways you can deliver more value to your consulting clients. Learn about some of those other ways by subscribing to the Journal of Consulting Value:
Free articles in your inbox
Insights on new ways to provide value to your clients
Tips on demonstrating your value and educating your prospects on your value
Questions? Comments?
If you have any questions, or just want to talk about something, I'd love to hear from you. Just send me an email at jeremy@remarq.io.
Don't wait, get started today!